Today, November 11 is not only Veteran's Day but also would have been my grandfather's 84th birthday. He was an amazing man - a devoted husband, loving father and a great grandfather.
My grandfather was born on November 11, 1926 in Manhattan, New York. The son of Italian immigrants, he was the oldest of their three sons. Growing up my grandfather was best friends with one of my grandmother's brothers and the rest is history. They dated throughout their teen years and were married on September 17, 1949. My grandparents were blessed with two children, a son and a daughter and though it was not always easy, they made the best of it and provide a good life for their children.
I seriously hit the jackpot when it comes to grandfathers. I was super close to him because my mother was a daddy's girl and them being close led to him and I being close. After my father passed away my grandfather really stepped in and was a great father figure for me. He accompanied me to father/daughter dances at school, picked me up from chemistry review (read: detention) in high school and always offered his advice and listening ear.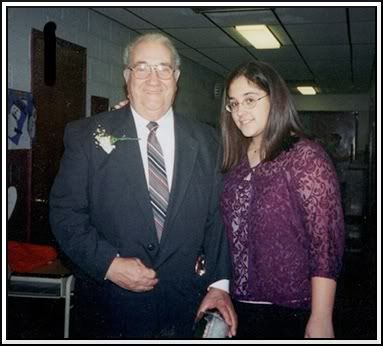 Father/Daughter Dance 2001.
He had been diagnosed with prostate cancer when I was younger but it ended up coming back years later in 2008. After battling it for months he passed away on May 10, 2008. During that time I was taking an English class and the professor I had just changed my whole outlook on life and death. While I was crushed that I was losing a second father, I was very at peace with his death. One thing that my professor kept mentioning throughout the semester was making sure that you spent your "dash" (as in the dash between the year you were born and the year you will die) as best as you can. My grandfather was married to the love of his life for 58 years, raised and watched his two children marry and give him three grandchildren, made his only grandson a Yankees fan and had an amazing life. I cannot think of a better way that he could have spent his dash.
My grandfather loved the summer and the beach. Right now he is probably relaxing on the beach with a beer in his hand.